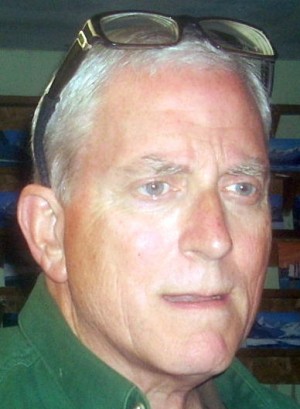 Hello. I'm Jerry James. I've been painting since the early 1990s.
I was prowling around the library one night, looking for nothing in particular, and pulled out a book called "How to Paint with a Knife" by Coulton Waugh.
I flipped through the pages and was fascinated with the bold, colorful, expressionistic images.
Shortly thereafter, I decided to try my hand at knife painting, which Coulton assured his readers, could be a wonderful pursuit. He was right and I've been thankful every day I've had the opportunity to paint.
But it didn't come totally out of the blue. I remember sketching as a kid and doodling all the way thru high school and the Navy.
After my hitch, I went and got a BA in English and and BE in Mechanical Engineering. For nearly three decades I enjoyed a career in the electric power industry. And painted at night for many of those years. Now that I am retired, I paint during the day.
Oil and Knife
I am enamored by the sensuous quality of oil paint straight from the tube and the sometimes fascinating way it behaves when applied with a palette knife. The paintings typically range from 4 x 6 to 7 x 9 inches.  They should appear close to lifesize on screen. They are done in a single session on gessoed panels.
I'm into mountains and seascapes. But subject matter is secondary. I'm primarily interested in the technical and serendipitous aspects of creating knifestrokes that resonate with intuitive visual concepts. The extent to which these concepts are realized in oil is proportional to the pleasure I take in the piece.
Some of these paintings are thrust into a more surreal dimension via digital manipulation. I transform images of the originals by switching colors with their complementaries. You'll find these alterego doppelgangers in the Digitoil gallery.
Below is a typical 5″ x 7″ knife painting ( actually one I'm sorta fond of ) …and the galleries in the menu at the top go to thumbnails of many more.
Hope you enjoy!
Breakers on Shore